Home
»
All Resources
» 10 Things to do to help the Earth during Covid-19 lock down (and beyond)
10 Things to do to help the Earth during Covid-19 lock down (and beyond)
Downloads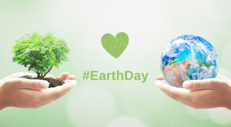 Some of us in the HE and FE sectors will be lucky enough to continue working during this difficult time, others will be furloughed, trying to manage childcare, volunteering for the NHS, helping our communities, and a whole host of other things.
What is apparent though, is that many of us will now have a little more time on our hands than we are used to. Many of the efforts to combat climate change planned for this year have understandably been delayed – so what can you do to help?
We've made a top 10 list! Download it here.