Climate Change Adaptation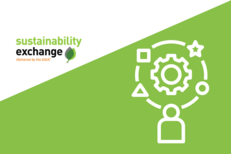 Climate change adaptation means altering our behaviour, systems, and even ways of life to protect our families, economies, institutions, and the environment in which we exist and live. The more we reduce emissions now, the easier it will become to be adaptable in the face of unavoidable change.
Climate change is not only a risk in itself to operational, teaching and research activities, but also a multiplier of many others. Therefore, considerations for minimisation through adaptation actions are vital and should be integral to all departments' frameworks - not exclusively those within the remit of Sustainability or Estates Teams.