Sustainability Leadership Scorecard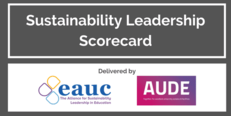 The Sustainability Leadership Scorecard (SLS) is encompasses new opportunities for your institution to measure its environmental impact and drive improvement. It operates as a planning and self-assessment tool specifically for colleges and universities to improve social responsibility and environmental performance through a whole-institution approach. The Scorecard systematically guides you through the design, planning and delivery of your strategic sustainability activities.
The SLS was re-launched during October 2022 - read more here.
SLS Purpose
Developed in partnership with EAUC, the purpose of the Sustainability Leadership Scorecard (SLS) is to measure the sustainability performance within higher and further education institutions and provide a framework for continued sustainability effort. This can then be used to drive innovation and encourage knowledge transfer within the sector.

SLS Structure
The SLS comprises 18 standard frameworks developed to address current and emerging sustainability themes. Frameworks are grouped within four priority areas. Each framework is made up of 8 activities and scoring is given at an activity level. All scoring is based on a 0 to 4 scale.
Click here to access the NEW Sustainability Leadership Scorecard.
Access
Use your existing SLS username and password. If you have any issues please click on 'forgotten password' and you will receive a reminder
Download the User Guide (available here)
Action steps
Add or update your score – see page 8 of the User Guide
Set a target – see page 8 of the User Guide
View any tools already set against your institution. Add, remove or change them – see page 7 of the User Guide
Review and update SDG's relevant to your institution - see page 11 of the User Guide
Supporting members
We delivered workshops and webinars that took members through the Sustainability Leadership Scorecard to show how the outputs can be used to effectively connect with senior leadership teams across your institution and provide our members with further information and guidance. Click here to watch the webinar.
What does it mean for your institution?
EAUC and AUDE produce a high profile annual report on the sector's activity and performance based on the collective data to further support sustainability in the education sector.

Automatically drawing on your current EMR data (for HE only), plus many of the sustainability standards and accreditations you have achieved, the Sustainability Leadership Scorecard:
Allows a coordinated whole-institution approach to sustainability.
Provides you with reports that you can use to communicate performance success within your own institution, set new targets and monitor and improve progress.
Gives you the choice over which aspects of sustainability you wish to focus on for action and improvement.
Is free and easy to use for all EAUC and AUDE member universities and colleges in the UK and Ireland.
It is available to international institutions at a small annual fee. Contact us for more details.
Below are case studies showing how institutions are benefitting from using the Sustainability Leadership Scorecard.