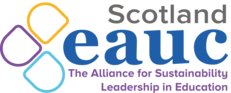 This webinar is the first of a series of three which explores careers involving sustainability, and was first broadcasted on the 9 March 2017. The webinar supported the 2017 Sustainability Careers Guides by giving examples from people who are working in the sector or have jobs that are related to sustainability. They are intended to give real-life examples of the variety of jobs and careers paths that can be taken when interested in sustainability.
While now several years old, there webinars might still help you to get a sense of the breadth of sustainability jobs out there. For up-to-date information, read our Green Careers Guide: How to find a job that's good for you and the planet.
You can access the Questions & Answers from this webinar on the right-hand side.
Speakers:
Michelle Brown – Head of Social Responsibility and Sustainability Programmes at University of Edinburgh
David Beards – Senior Policy Officer at the Scottish Funding Council
Russell Payne – Principal Consultant, Business Sustainability at AECOM
David Fairhurst – Energy & Utilities Manager at Edinburgh Napier University
---
Access the resources from the Careers Webinar 2 here.
Access the resources from the Careers Webinar 3 here.
Videos