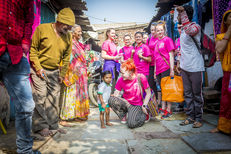 De Montfort University has an extensive public engagement programme and a simple aim – to make it the benchmark against which all UK universities measure the success of their own outreach projects.
A total of 126 project, events and activities were carried out by DMU's public engagement team last year, with 4,056 students taking part and contributing a total of 26,196 hours of volunteering.
The value of the volunteering work since the scheme started in 2012 is estimated to have contributed the equivalent of £10million of work to the local economy (the figures are arrived at using Bank of England metrics).
The work has been predominately in DMU's home city of Leicester and seen students working with primary and secondary school children on reading and maths projects, with the elderly, offering emotional and practical support to cancer sufferers through partners Macmillan and with inmates at Leicester Prison. Volunteering work is crediting with helping to improve a jail badly-hit by a culture of drugs and violence.
Volunteering work also takes place internationally with a major scheme in India, which saw DMU awarded International Strategy of the Year in the prestigious 2018 Times Higher Education Leadership and Management Awards, known as the THELMAs.