EAUC supports Latin American Universities for Fair Trade initiative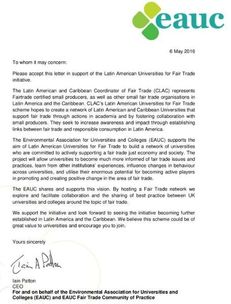 The Environmental Association for Universities and Colleges (EAUC) has provided a letter of support for the Latin American Universities for Fair Trade initiative.

The Latin American Universities for Fair Trade scheme hopes to create a network of Latin American and Caribbean Universities that support fair trade through actions in academia and by fostering collaboration with small producers.

The project will allow universities to become much more informed of fair trade issues and practices, learn from other institutions' experiences, influence changes in behaviour across universities, and utilise their enormous potential for becoming active players in promoting and creating positive change in the area of fair trade.

It has been coordinated on behalf of the EAUC's Fair Trade Community of Practice (CoP). We are grateful to members of the CoP for their contribution.
Liz Cooper, Convenor of the Fair Trade Community of Practice said, "It's great to connect with university networks in other parts of the world that share our aims of working together to combat unfairness in global trade and improve livelihoods. The Latin American Fair Trade Universities scheme is well placed to connect with local producers through research and outreach, as well as through changing university procurement approaches."

By hosting a Fair Trade network we explore and facilitate collaboration and the sharing of best practice between UK universities and colleges around the topic of fair trade.