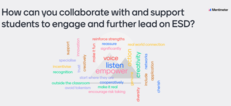 Our April 2023 ESD TSN touched on student-led intitiatives around ESD. We heard inspiring stories and approaches from:
- SOS-UK and how they support institutions to collaborate with students to integrate sustainability in teaching, operations, and research
- sparqs and their Student Partnership Staircase, a great lens to examine how you work together with students
- Sam Woolhead, Transition St. Andrews, about how the University of St Andrews collaborates with Transition, communities, and students to advance sustainability
- Sandra Thomson, Glasgow Kelvin College, and how the fashion department worked with students to organise a highly successful sustainable fashion event.
Furthermore, Rehema White and Kathrin Mobius gave an introduction and stimulated reflection on the role students play at our institutions when it comes to sustainability.
Please find the slides as well as a mentimeter word cloud on the role of students and how we can support them to download on the side - minutes to follow shortly!
Videos