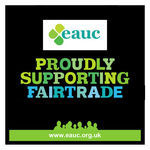 To mark Fairtrade Fortnight 2016 (29 February-13 March), the EAUC Fair Trade Community of Practice launched a competition to see who can come up with the best six word stories about fair trade. Ernest Hemingway is thought to have written 'For sale: baby shoes, never worn', demonstrating how a poignant message can be expressed in only a few words.
Member institutions were invited to encourage their students and staff to share their stories via Twitter, using the hashtag #sixwordfairtradestory and tweeting @TheEAUC. A prize of a fairtrade box of chocolates was awarded to the winning story, and favourite entries were shared on the EAUC's website.
"Work starts 9... years old. HELP!" was the winning #sixwordfairtradestory. Read some of the other excellent entries here. Well done @FROZY_STYERS for the winning suggestion!