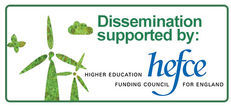 SERC's Environmental Skills Centre
In October 2010 Northern Ireland's South Eastern Regional College (SERC) opened a brand new Environmental Skills Centre on its refurbished and extended Ards Campus, delivering both upskilling and reskilling to boost the transition to a low-carbon economy. At the opening the Minister for Employment and Learning pronounced,
"This state-of-the-art facility provides an ideal environment in which further education and business sectors can cooperate to their mutual benefit. The cutting-edge skills honed here will provide a huge boost to both the local community and economy, whilst also helping to drive the sustainable energy and renewable technology agenda forward."
Already, SERC has trained well over 2,000 people in the area of sustainable development and renewable technology. The college provides specialist training and support in heat pump installation, biomass and solar technologies, energy assessment, the code for sustainable homes, wave and tidal energy, deep geothermal power, energy storage and passive and zero carbon homes – from information seminars and short courses for practitioners and interested individuals to skill-focused training providing vocational and professional qualifications.
Videos