Green Gown Awards 2012 - Construction & Refurbishment - University of Bradford - Winner
Downloads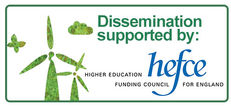 The Green - a large scale sustainable student village
Built for the same cost as traditional student accommodation, The Green is our final piece of the jigsaw in the Ecoversity Programme. It is an environmentally sustainable student village at the heart of the University of Bradford. It scored a BREEAM rating of 95.05%, the highest "Outstanding" interim BREEAM assessment in the world*. It contains no "Eco Bling" and concentrates on good design, social engineering and outstanding building physics to deliver its final built BREEAM score of 94.11%, the highest scoring multi residential building in the world*, which truly makes this development one in a million.
The real joy of the development does not just lie in its sustainable credentials, or the remarkable way it has been delivered, but in allowing the buildings to be used by our students to experience, and be educated in, living a sustainable lifestyle. This, coupled with sustainable modules embedded throughout the curriculum, will truly make our students unique. We believe that this unique immersed combination of living and learning about sustainability will equip our students to influence change to the sustainable agenda in the future.
*At the time of writing.
Videos