Home
»
All Resources
» Green Gown Awards 2013 - Courses - University of Bristol - Highly Commended
Downloads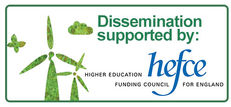 Embedding Education for Sustainable Development across the curriculum
The University of Bristol has delivered a student led ESD initiative, reflecting its commitment to 'offering students opportunities to learn about issues of global importance such as environmental awareness and sustainability'.
The work to date has been delivered in a unique way using student interns to lead its development. This has delivered; a full course and module baseline review identifying 23% of courses containing ESD and has led to the inclusion of ESD with student record data; mapping tools which help define ESD and engage academics, one to one assistance for academics; training courses and an ESD teaching and learning guide.
All faculties have engaged in the process with a number of schools ranging from Religious Studies to Dentistry developing ESD activity.
A key outcome of the work has been the inclusion of ESD in all faculties' Annual Programme Reviews which are reviewed by Faculty Quality Enhancement Team Chairs.