Home
»
All Resources
» Green Gown Awards 2013 - Social Responsibility - University of Sheffield - Highly Commended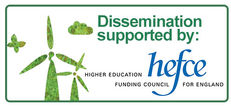 ReCycle Bikes and the University of Sheffield
The University of Sheffield and ReCycle Bikes are working together to provide students with reliable, cheaper alternatives to new bikes.
By funding ReCycle Bikes' work in the University, this has also given financial security and an opportunity to provide apprenticeships to two excluded young adults in the Sheffield community (so far).
Not only does this help the University to reduce its carbon emissions and encourage students to discover the beautiful landscape around Sheffield, but it is also giving the University a chance to have a real benefit on excluded young adults in Sheffield.
The apprenticeships allow excluded young adults to gain industryrecognised qualifications and increase their subsequent chances of employment. The University are currently looking at offering a third apprenticeship.
Videos