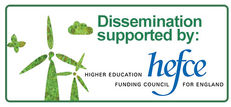 Learning and working together for positive change
This course helps students gain the knowledge, skills and capabilities they will need to act as a catalyst to inspire and bring about change towards sustainability.
It is a unique partnership between Anglia Ruskin University, the Eden Project and Change Agents UK.
Students embark on an ambitious learning journey, along which they; gain a deep understanding of key sustainability challenges; become equipped with the skills required to lead change; and undertake a work placement in which they can apply their knowledge and skills.
This is a truly multidisciplinary course of study, with an emphasis on developing students understanding of a range of natural and social systems. It is delivered through a combination of intensive residential sessions in Cambridge and Cornwall together with innovative online learning.
This course explicitly addresses each partner's institutional goals to develop sustainability literate and skilled individuals who are empowered to live and work within a sustainability paradigm.