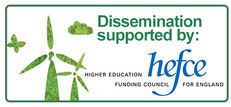 How to Eliminate a Pool Car Fleet
The University of Cumbria operates from several geographically dispersed sites, the main ones being 70 miles apart. Approximately 70% of our students attend placements as part of their courses. As a result, the University has a significant culture of staff business travel by car. Until 2010 this had been provided for by a combination of pool cars and private car use.
This project has been about implementation of the changes necessary to eliminate or reduce the need to travel and, where travel is needed, to persuade staff to think about alternatives to cars and to reduce the amount of single occupancy car use. This has enabled the University to eliminate the need for all of its 49 pool cars, all of which will have gone by the end of November 2012. For journeys between the main cities of Carlisle and Lancaster, where a good rail service is available, the University has reduced car journeys by 49%.
More widely, its programmes have helped to reduce its financial costs, reduce its use of resources, reduce its carbon emissions and increase staff well being. Support from senior management and long term partners were key to this success. The University has plans and targets in place for the continuation of this work.
Videos