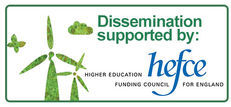 Cranfield Green - Practicing what we teach
As a research intensive, wholly post-graduate University, with its own sewage works and airport, Cranfield has a diverse range of challenges to address when it comes to carbon reduction and environmental improvement.
Cranfield Green is more than a single project, it is a University-wide commitment to improving its environment and at the same time its financial sustainability.
A carbon management plan developed in 2008 provided 10% carbon savings in 2010 (24% by 2012) as well as significant cost savings; a new travel plan has led to improvements in cycling, bus services and car sharing; incorporating biodiversity planning to grounds maintenance is improving its local environment and reuse events arediverting waste from landfill.
All these initiatives are tied together by Cranfield's certified ISO 14001 Environmental Management System and have involved extensive support from its staff and students; providing opportunities for them to volunteer, network and also apply their academic skills.
Videos