Downloads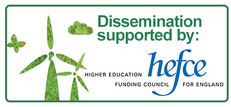 Dye-beds and sustainable fashion
Students from MA Fashion and the Environment course at London College of Fashion (LCF) were invited to showcase their design work, which uses plants from the College's dye garden to colour cloth, at Chelsea Flower Show in May 2013.
LCF was one of only five prized Artists' Retreats at the centenary Flower Show and they utilised the opportunity to explain their work with natural plant dyes to an extensive audience.
The students' work, resulting in unique and beautiful pieces, highlights the extent of what can be achieved through harvesting locally sourced plants.
Their involvement at the Chelsea Flower Show was recognised through substantial media coverage, royal visitations and the invitation to work with the Royal Horticultural Society in a larger capacity at the Hampton Court Flower Show in July 2014.
Videos