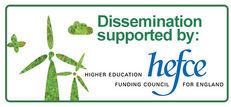 Carbon Footprinting in Schools (CFiS)
The Carbon Footprinting in Schools project placed student volunteers into six under-achieving schools in Leicestershire to create a carbon footprint for the school and teach the pupils about climate change, which is being axed from the curriculum.
Following intensive training, volunteers delivered teaching to over 250 school pupils and prepared final carbon footprint reports. Some schools exceeded the project brief with energy audits as well as a travel survey in one school.
Project evaluation showed that it successfully raised awareness of climate change issues amongst school pupils, staff and the volunteers. Student volunteers also reported increasing their employability skills, e.g. communication, problem-solving, organising skills. Two graduates have gone on to pursue associated careers.
The schools are now improving their baseline data or formulating plans to reduce their footprint.
The project is now being developed into a student-led initiative to create a model that can be replicated across the education sector.
Videos