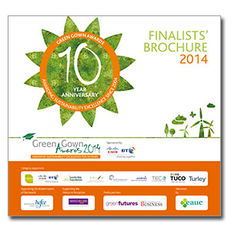 Over 360 sustainability leaders were on the edge of their seats at The University of Manchester's stunning Whitworth Hall on 3 November 2014, as author and TV presenter Simon Reeve announced the winners of this year's Green Gown Awards. Celebrating its 10th anniversary, the awards ceremony was the biggest and best yet with 15 Winners, 25 Highly Commended and it also saw the crowning of its 100th winner!
We're delighted to share the Winners' Brochure which explores the journeys all these institutions have taken - is now available online. We encourage you to delve into this rich resource of sustainability best practice and hope that you draw some inspiration and are able to replicate an initiative within your own institution. We encourage the dissemination of good practice so all the 2014 Green Gown winners, highly commended entries and finalists have been asked to provide a case study and a short video on their projects. These will be available from the Sustainability Exchange in early 2015. We'll also be running 'exchange' webinars too to encourage further engagement and to enable you to ask questions!
102 finalists, 62 institutions, 14 categories, 1,076,734 students
Now in their 10th celebratory year, the Green Gown Awards, sponsored by the CISCO and BT education partnership, recognise the exceptional sustainability initiatives being undertaken by tertiary education. Our Finalists show that sustainability can be the catalyst to ensure that institutions achieve high quality student experiences, provide their students with new skill requirements, increase access and give enhanced value for money. The value tertiary education generates is huge and over the last decade, the Green Gown Awards have demonstrated the contribution that sustainability brings by publicising the sector's achievements to many external audiences.