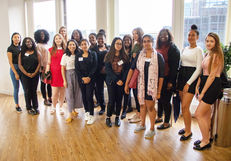 REACH, an initiative launched in February 2018 aimed at underrepresented student populations to increase diversity within the banking and finance industry.
REACH is a series of one day, free workshops that encourages applications from BAME (Black, Asian and ethnic minority), women and mature learners to study for a qualification in banking and finance.
Each workshop tackles the challenges of diversity in the workplace and rewards that can bring. Essential knowledge and skills needed for a successful career in banking and finance, the opportunities available and how to access these are also covered.
REACH is widely supported by the financial services industry making the programme highly relevant, interesting and interactive.
Top 3 learnings:
Be aspirational with your goals and what you want to acheive.
We conduct surveys as part of our monitoring and evaluation strategy to measure impact. Not only have the responses been very insightful but receiving confirmation from 86% of attendees that REACH has increased their interest in pursuing a career in banking and finance provides us with the motivation to continue and improve the much needed work we are doing.
Never be satisfied, we always look to see what we can do better or enhance next time.