How to run a multi-agency city wide Go Green Week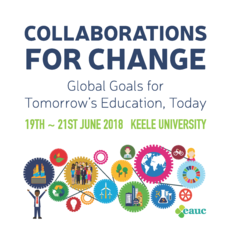 Go Green Weeks off campus can be high profile informing residents and visitors to cities how to live and work more sustainably. They bring your research and student activities to a new audience. Learn from two Cities and three Universities how students practiced, developed and enhance their enterprising and entrepreneurial skills. The complexity that underpins sustainability requires effective inter-agency collaboration and networking to succeed. We aimed to develop a shared understanding and route maps for sustainability locally with students at the centre. These collaborations enabled students to be agents of change, to coalesce and galvanise a community and build relationships.
To find more presentations and resources from this Conference, search for EAUCConf18.