Learning and Teaching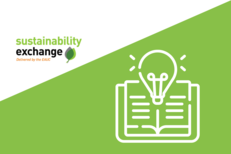 Today's environmental challenges impact our social and political world. With the future journey in mind, it is vital that graduates are equipped with the expertise and experience to guarantee their positive contribution to sustainable development. The important role of universities and colleges in shaping a young person's early career outcomes can be used to empower their students to take on employment opportunities with confidence, and begin to shape the sector thereafter.
If you would like to connect with other professionals interested in this area of sustainability, join SHED - the leading cross sector Community of Practice in the UK for Education for Sustainability (EfS). This group is open to all.
EAUC-Scotland has two Education for Sustainable Development Topic Support Networks (TSNs) which are open to all, one for further and one for higher education. Each provide an opportunity for those working in or with the further and higher education sector to share ideas and questions and to get together to hear from particular speakers or discuss topics of interest.