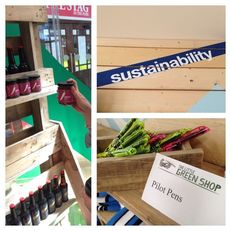 On Monday 8 September, EAUC were delighted to be invited to the opening of the University of Gloucestershire Students' Union "Little Green Shop". The "Little Green Shop" is a NUS Students Green Funded project, set in the heart of the beautiful Park Campus, Cheltenham. The idea initially stemmed from students not needing used and old textbooks and wanting to sell them to other students, with the hope of making a little cash along the way.
Piers Telemacque, vice-president society and citizenship at NUS, was given the honour of unveiling the shop, with an enthusiastic mention that this was his first "ribbon cutting" event, he introduced the opening with a nod to how crucial and beneficial projects, such as the shop, are to a University or College and the engagement and implementation of sustainability within a student's experience at their institution.
Once inside the light and aesthetically pleasing shop, we were able to gauge the products that were already up for sale and those that could be in the future. As well as the Fairtrade University branded clothing on offer, there is also a scrumptious stand full of Cheltenham Chilli Company Chilli Chutney, which is produced in the Park Campus Allotment Greenhouse, the profits of which promote eating local, healthy food. The stand also spotlights the Core Blimey Juice and Cider, which is a social enterprise using local apples to make cider for the SU bars. There is now opportunity for students to come forward and sell a whole variety of products including old clothing, DVD's and CD's, as well as home-made or upcycled products of their own. An impressive element is the advance system that is in place, involving scanning of student ID cards, to keep track of both sellers and consumers and ensure a fair exchanging of money. The feature walls, shelves and merchandise stands are all made from used wooden crates (some even found from round the back of the University!) which added to the sustainability journey that the "Little Green Shop" will endeavour to drive students on. A lot of credit is deserved of the team and Rachel Purdon, Green Fund Project Manager, University of Gloucestershire's Students' Union sums up her pride by fulfilling a career highlight of having "the words sustainability and fun on the same wall!".
This is an excellent project and one that we will continue to support, as EAUC are also based at Park Campus, University of Gloucestershire, we will be popping in regularly to see what goodies are up for sale!
> Find out more about the other inspiring projects that are happening at University of Gloucestershire.