Downloads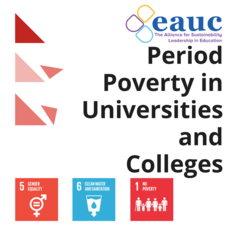 Period Poverty is a global issue that can affect anyone with a menstrual cycle. It means they do not have access to or have limited access to safe, hygienic sanitary products. They may also be unable to manage their periods with dignity due to community stigma and sanction.
Worldwide, 1.2 billion women lack access to basic sanitation – including sanitary items needed to manage their period. But, this is not only a problem in the developing world, period poverty is very much present in the developed world too. In the UK, it is estimated that around a quarter of women struggle with period poverty. Period poverty is caused by a lack of available information, poor sanitary infrastructure and unaffordable sanitary products, factors which combine to form a uniquely female healthcare crisis that negatively affects the life opportunities of women and girls everywhere.
Discover a selection of case studies and resources to help students and staff to lobby their institution to provide free sanitary products in the resource attached.