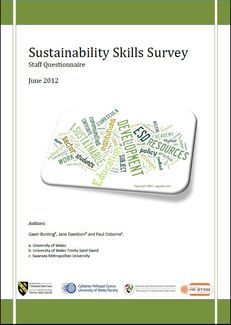 This staff questionnaire was developed for the sustainability skills audit at University of Wales Trinity Saint David and Swansea Metropolitan University by Gavin Bunting, Jane Davidson and Paul Osborne.
Sustainability is at the heart of the strategic vision for the newly transformed institution, created as a result of the merger between University of Wales Trinity Saint David, Swansea Metropolitan University and University of Wales. It is a unique and defining feature, around which all governance and activity is framed.
To inform the plans for embedding sustainability throughout the organisation, a sustainability skills survey of all academic and non-academic staff was conducted. It was recognised that there is sustainability expertise across the entire university community, hence the inclusion of all staff. It also demonstrated the parity of esteem that the University aspires to between all members of staff.
The survey fulfilled the original aim of developing an evidence base of existing expertise, experience and interest in sustainability. The work identified opportunities for new curricula and research and engaged all staff on what it means to have sustainability as a core value and strategic priority.
To view the survey, please download the document below.