Sustainable Sharing Series - Engaging Resistant Stakeholders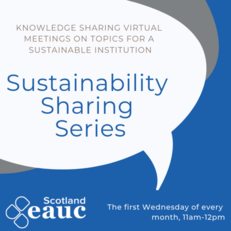 We'll hear from Charlotte Lee-Woolf, Business Development Manager, Social Responsibility and Sustainability at the University of Edinburgh, who was instrumental in developing the EAUC's Governance Guide. We will also be hearing from Jane Pollinger at Newcastle College about engaging students to engage more students.

Our Sharing Series will take place virtually by webinar on the first Wednesday of every month from 11am-12noon over the 2019-20 academic year. Read more and see the full schedule for the year ahead.

This is an informal online sharing opportunity, where people working within further and higher education are invited to meet through our webinar software to share their experiences and questions on specific topics connected to sustainability. We aim to create an interactive platform, rather than a webinar lecture, where we have microphones and webcams switched on to allow debate to flow freely around the topic area with all participants.