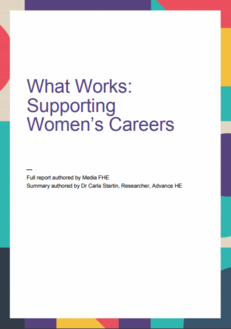 Advance HE has published a new report, What Works: Supporting Women's Careers, designed to offer practical insights to support women's career progression.
The report follows a 'rapid review' of a sample of publications from one of Advance HE's forming agencies, the Leadership Foundation for Higher Education, summarising the evidence relating to effective interventions in supporting women's careers.
The report notes that while there several effective programmes to support women's careers - including Aurora, the Top Management Programme, and Athena Swan – there are still significant barriers to overcome to bring about equality in career progression.
A number of approaches are summarised in the report with recommendations to address to this imbalance, including:
• Using executive search firms or 'head hunters' to fill senior university posts
• Promoting dedicated programmes to support women's careers and development
• Allowing flexible working and encouraging a healthy work-life balance
• Encouraging mentoring/coaching schemes
• Providing equality training and guidance
• Supporting career development and talent management
• Motivating women
• Collecting and analysing data for research
.