Downloads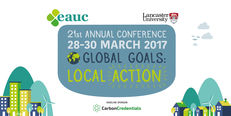 This workshop presentation is from the "Global Goals: Local Action" EAUC Annual Conference 2017, presented by Rob Callaghan, Sustainability Officer - University College of Estate Management. Aled Williams, Dean, Research, Innovation and Partnerships - University College of Estate Management, James Honour, RIBA – BREEAM – BRE Global and fell under the Planet - Climate stream. To find more presentations and resources from this Conference, search for EAUCConf17.
University College of Estate Management's university estate 'Horizons' achieved a BREEAM 'Excellent' rating as one of the first buildings certified against the BREEAM 2014 refurbishment and fit-out scheme.
This session considered a range of environmental criteria from waste, energy, transport, materials and procurement, and highlighted the opportunities these offer to embed sustainability into the core operations of a building. This was supported by an interactive image of Horizons which allowed participants to explore hotspots and learn about the features that give the building its' green credentials.
Participants were presented with real challenges and decisions faced by the project team in pursuit of achieving a sustainable refurbishment of a poorly-performing, unsustainable 1980s build.