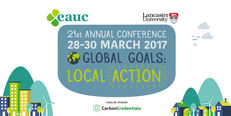 This presentation is from the "Global Goals: Local Action" EAUC Annual Conference 2017, presented by Will Jenkins and Joe Pigott from Carbon Credentials. To find more presentations and resources from this Conference, search for EAUCConf17.
How can you make better use of your data to improve building control, engage staff and students, and achieve energy savings?
This pod session from Carbon Credentials' experts explores how you can combine data, technology and engagement to optimise your buildings and quickly deliver energy savings of over 10% without further capital investment. Discover recent innovations in data acquisition and analytics, the latest developments in BMS and plant optimisation, and case studies with quantified energy savings.