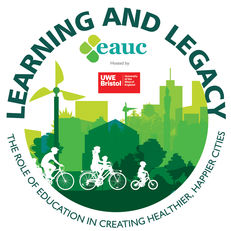 This Exchange presentation is from the "Learning and Legacy: The Role of Education in Creating Healthier and Happier Cities" EAUC Annual Conference 2016, presented by Louise Swift, Public Sector Sales Director – Interface and falls under the Leadership and Governance stream. To find more presentations and resources from this Conference, search for EAUCConf16.
In 1994, Interface founder, Ray Anderson set out a vision: to unlock true sustainability through ingenious design and innovation. Every process was reviewed. Every material questioned. Today, Interface honours that vision through a passionate belief in the power of design for good.
No matter how big or small, change can only be driven by visionary thinking. Whether that's creating spaces that improve health and well-being, saving our oceans from destruction, or developing a cleaner industry for our future.
The key is to push boundaries and make a genuine commitment to actively pursue new ways of working. For an idea to be truly innovative, it must be ambitious, but it must also have real purpose.