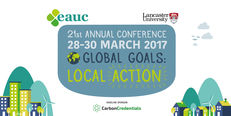 This workshop presentation is from the "Global Goals: Local Action" EAUC Annual Conference 2017, presented by Jonathan Mills, Carbon, Environment & Sustainability Manager - Lancaster University. Emma Goodchild, Associate Director - ClearLead Consulting Ltd, Neil Smith, Sustainability Manager – Bournemouth University and fell under the Planet - Resources stream. To find more presentations and resources from this Conference, search for EAUCConf17.
Lancaster and Bournemouth Universities have ISO 14001 certified environmental management systems (EMS) in place and are in the process of experiencing the transition to the new standard. This session focused on the challenge they faced in achieving legal compliance, together with the key issues required for transition to the new standard.
They explored the intricacies of environmental and energy legislation and specifically how it applies to Universities and Colleges.