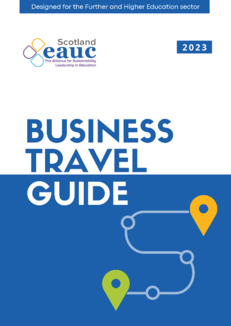 Published in February 2023, EAUC Scotland's Business Travel Guide for the Further and Higher Education sector highlights the Scottish policy and social drivers for addressing business travel emissions, and showcases best practice in strategies, reporting and reduction activities.
This guide aims to:
Inform institutions of the Scottish policy context, reporting obligations and background information on emissions.
Inspire with best practice case studies from Scotland and around the globe.
Provide suggested actions to take in five key areas.
Signpost towards further resources.
This guide is tailored towards individuals and teams at colleges and universities looking to know where to start, or who want to expand their sustainable business travel measures. It contains links and resources that will enable you and your team to reduce emissions at your institution. Most of the guide will be applicable to non-Scottish institutions and we would highly recommend any UK or international institution to utilise the information relevant to them.