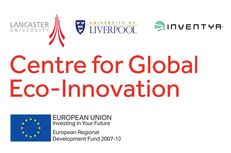 The Centre for Global Eco-Innovation is the only centre of its kind in Europe. The £9.8M development unites the expertise, resources and global contacts of Lancaster University, the University of Liverpool, and Inventya Limited.
The aim of the centre is to form collaborative Research and Development and commercialisation partnerships with businesses, to enable and drive innovation for a better environment. It supports the development, exploitation and export of new products, processes and services for the global marketplace that have positive environmental benefits.
The centre, part funded by the European Regional Development Fund, has the ambition to work with over 285 businesses in the region, resulting in the creation of 318 new jobs; the development of 150 new products and generating £45M in wealth for the Northwest of England by 2017.