Home
»
All Resources
» Communicating Sustainability Using Multimedia (video clips, films and images)
Communicating Sustainability Using Multimedia (video clips, films and images)
Tags: education | EAUCConf17
Downloads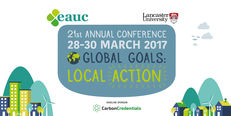 This workshop presentation is from the "Global Goals: Local Action" EAUC Annual Conference 2017, presented by Dr Vitalia Kinakh, Lecturer - University of Manchester and fell under the Learning and Skills stream. To find more presentations and resources from this Conference, search for EAUCConf17.
This session explored how we can considered the learning preferences of today's students to scale-up Education for Sustainable Development (ESD) in the post-2015 agenda.
It looked at the scope for using existing videos/images to educate about Sustainable Development and shared ideas on possible ways to embed ESD into courses and how this can be achieved with the use of multimedia.