Downloads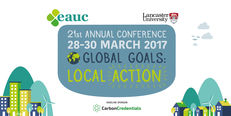 This workshop presentation is from the "Global Goals: Local Action" EAUC Annual Conference 2017, presented by Professor John French, CEO Adapt Group - University of East Anglia. Dr Rosemary Willatt, Sustainability Co-ordinator, London College of Fashion - University of the Arts London and fell under the Work and Employability stream. To find more presentations and resources from this Conference, search for EAUCConf17.
The multi-award winning Enterprise centre at UEA was used as a case study on how to build a green business cluster.
What types of businesses are in a green business cluster and how do they respond to the university and the core 'green' values? The session also explored the role of ethical and low carbon investment into businesses in the ecosystem to ensure their success. Parallels were drawn between the work at UEA and the emerging cluster at the London College of Fashion, UAL with its move to the new Stratford campus and its emphasis on sustainable and ethical fashion businesses.