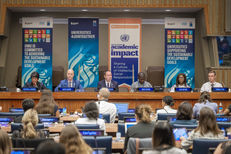 De Montfort University has been chosen by the United Nations to be a global hub for one its Sustainable Development Goals (SDGs), which are aimed at transforming the lives of millions of people by 2030.
DMU has been awarded the role of global hub for SDG 16 to promote peace, justice and strong institutions – and was the first university in the world to be given such an honour.
Work has now started with the United Nations Academic Initiative on how that hub will work and on involving other universities and organisations in the project.
SDGs form an important part of the university's new five-year Strategic Framework and are also being embedded into the curriculum.
Academics are already drawing up plans to integrate all the 17 goals into every aspect of DMU's teaching, learning, research and student support.
DMU's extensive public engagement volunteering projects and activities, which involved more than 4,000 students last year, will all also be aligned to one or more of the SDGs.
The award follows the university being selected as the world lead on the UN's #JoinTogether campaign to create a new network to mobilise higher education in an effort to reduce the impact of forced migration.