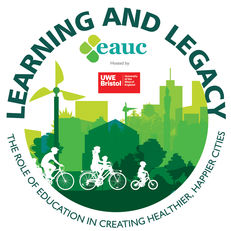 This workshop presentation is from the "Learning and Legacy: The Role of Education in Creating Healthier and Happier Cities" EAUC Annual Conference 2016, presented by Pam Reynolds, Sustainability Manager - Blackpool and The Fylde College and falls under the Learning, Teaching and Research stream. To find more presentations and resources from this Conference, search for EAUCConf16.
Blackpool and The Fylde College launched its new Moodle sustainability E- learning module in November 2015.
The module is made up of eight key themes that can be used across all curriculum areas; Business and Procurement, Energy and Emissions, Water, Global Issues, Community and Engagement, Waste and Recycling, Biodiversity, Travel and Transport.
This workshop explored the aim of the module which is to provide a simple and interactive approach to each theme, with flexible resources written so that they can be utilised by all abilities of FE and HE students through a variety of - text, diagrams, online video clips, case studies and quizzes.