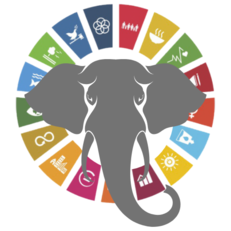 Our EAUC-Scotland Conference 2019, entitled the Elephants in the Room, included several plenary sessions. This page contains the resources from the session on The Purpose of FHE in a Climate and Ecological Emergency.
Summary Notes of all presentations can be found below alongside some more comprehensive transcript from the speakers indicated below.
The session was delivered by:
Estates: Ray Walkinshaw, Head of Estates & Sustainability, Ayrshire College (Transcript Below)
Research: Pete Higgins, Director, Learning for Sustainability Scotland
Senior: David Duncan, Chief Operating Officer and University Secretary, University of Glasgow
SFC: David Beards, Senior Policy Officer, Scottish Funding Council
Student: Dhruti Chakravarthi, Sustainable Development Student, University of Edinburgh (Transcript Below)
Sustainability: Jamie Pearson, Environmental Sustainability Manager, Edinburgh Napier University (Transcript Below)
Teaching: Christine Calder, Academic Development Lead, Dundee and Angus College
You can find all other resources from the 2019 EAUC-Scotland Conference here.