Links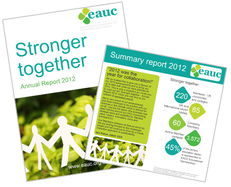 As a Membership organisation, the EAUC holds an Annual General Meeting (AGM). This allows us to update our Members on our successes from the past year and gives our Members a vital voice on the running of the Association.
We also create Annual Reports to show the work the EAUC and our Members have achieved over the year. The 2012 report was entitled 'Stronger together' and includes the Financial review and statements
We also created a summary version which highlights the key points from the Annual Report above.