Downloads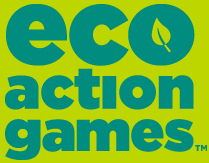 Launched at the Environmental Association of Universities & Colleges (EAUC) annual conference in Leeds March 2015, eco action games and the University of Manchester's research report that proves a games-centric approach to student eco education is a highly effective method of engagement.

In 2014, a series of eco action 'playground events' were held involving students at the University of Manchester. These events were large scale, immersive, social experiences where students engage with giant, retro schoolyard games that contain eco messaging tailored to their lifestyles. The idea being tested was that students would play, engage and consequently discover new environmental actions they hadn't already thought of, and change their behaviour accordingly to become more environmentally aware and resource efficient. This report outlines our findings.
Some key stats:
• Over 90% of all attendees agreed they enjoyed the event and the games they played
• 85% agreed they had learnt something new about eco actions that they could do at home and /or university
• Before the event over one third said they were currently doing all they could to be eco friendly, after the event that dropped to 4%
• The average number of new actions chosen to be adopted after the event was 12

And these are just a few of the findings, there are many more fascinating facts and stats to be found in the report.