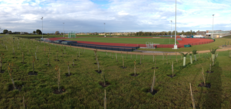 The wide variety of trees and plant species on campus are an important factor in enhancing and preserving a high level of biodiversity. A large proportion of trees on campus are mature trees that create and support a wide variety of ecosystems, therefore helping conservation.
Perhaps the largest of all the tree operations carried out to aid the conservation of biodiversity, was the selecting and transplanting of over 100 trees into a temporary nursery built from a shelterbelt, which would have otherwise been lost to the new sports development. The project arboriculturist selected the trees and specialist contractors were employed to lift, rootball and plant them in the temporary nursery. These trees were maintained in their temporary home for 12 months before they were lifted and relocated.
Existing woodland of Beech, Sycamore, Wych Elm and Silver Birch trees have been complimented by the addition of a variety of new woodland, of mixed age and species, providing greater ecological benefit and extending existing wildlife corridors through the site.
For more information email sustainability@edgehill.ac.uk.