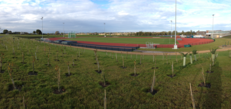 The biodiversity value of the campus is considered a priority by the University, so conservation is of the upmost importance and all development projects carried out on campus seek to enhance the biodiversity value.
Edge Hill University have a brand new state of the art Sports Centre situated to the East of the campus, with a wide range of facilities including five grass sports fields and three all-weather pitches and tennis courts. The development was carefully designed to be multifunctional, whilst preserving the natural landscape and promoting rich biodiversity. The development incorporates a 2.5k 'trim' trail, three areas of park fitness equipment which were designed in conjunction with a local athletics club, parklands, and pedestrian access points to encourage the local community to also benefit from the facilities.
The development has resulted in a multi-functional space for the University and the wider community, that is both attractive and biodiversity rich.
For more information email sustainability@edgehill.ac.uk.