Downloads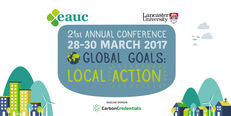 This workshop presentation is from the "Global Goals: Local Action" EAUC Annual Conference 2017, presented by Odette Wills, Sustainability Project Officer - Wales and Student Eats - National Union of Students. Celia Briseid, Growhampton Project Co-ordinator - Growhampton. Tilly Jarvis, Student Food Enterprise Officer - Sustain. Joel Williams, Edible Campus Co-ordinator – Growhampton and fell under the Health and Wellbeing stream. To find more presentations and resources from this Conference, search for EAUCConf17.
Students often take their 'first steps' toward sustainability during their time in further and higher education. This session considered how growing food and creation of food-based social enterprises can create an invaluable opportunity to engage students with a sustainability paradigm that can follow their careers.
First it will view Roehampton's edible campus, showing that engaging with aspects such as food growing, cooking skills and biodiversity can individually yet collaboratively contribute to an integrated approach toward health, wellbeing and eco-sustainability. Then it will look at how student enterprises, through NUS Student Eats, can act as an educational tool to transform learning and turn ideas for sustainable food provision into reality.