Getting Climate Change Adaptation on your Institution's Agenda
Downloads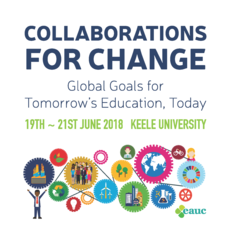 Our buildings, relationships and development activities are built in the present, often assuming a future world much like today. However, with climate change already impacting and likely to accelerate over time, we need to prepare for new challenges and to seize new opportunities. EAUC and the Higher Education Business Continuity Network (HEBCoN) set up a project earlier this year to look into the possibilities of using Risk and Business Continuity language and tools to progress Adaptation in further and higher education institutions.
The project aims to explore how climate change might affect the critical functions of universities and colleges, and how risk and business continuity tools can be used to help engage decision makers. This session will outline some of the work of the group so far and the expected project outputs, giving attendees the opportunity to inform the project working group of what outputs would be most useful to them. We will also hear from a couple of institutions who have managed to get buy in from senior leaders on how they achieved this.
To find more presentations and resources from this Conference, search for EAUCConf18.