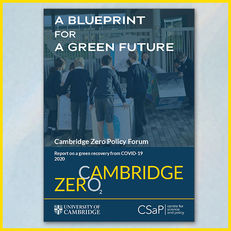 The Cambridge Zero Policy Forum has brought together ideas from senior academics across the University of Cambridge to present a multidisciplinary perspective and series of recommendations for policymakers and industry in an ambitious new report: A Blueprint for a Green Future.
With economic activity limited to contain the coronavirus, the global economy faces unprecedented challenges in the coming months and years, including the risk of a protracted depression. Pulling the world out of recession and generating sustainable, inclusive, and resilient growth requires a vision that restores confidence, a comprehensive policy response that delivers investment at scale, and a plan of action from a local to an international level. This must include investment in knowledge capital and innovation, in social and institutional capital to deliver effective government, and in natural capital, not least as COVID-19 has reminded the world of the urgent need to strengthen the quality and resilience of natural assets. Such investment in green stimulus measures has been shown to lead to strong fiscal multipliers with substantially enhanced returns on the investment. Action to address the nexus of threats associated with social inequality, destruction of nature, and climate change can, by definition, result in a nexus of opportunities resulting in benefits across these systems.
This multidisciplinary report outlines complementary investments, policy commitments, institutional frameworks, and systems thinking that will provide security, strengthen the UK's place in the world, and support collaborative global efforts to transition to a green future.
The report is available here.