Downloads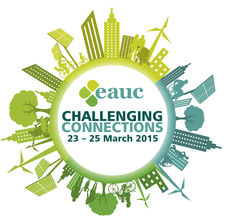 This presentation is the final Keynote from day one of the "Challenging Connections" EAUC Annual Conference 2015, presented Tom Riordan, CEO Leeds City Council and Chris Brown Director of Sustainable Business, ASDA and chaired by Professor Gary Dymski, University of Leeds.
Around the world there is a growing realisation that we need to do things differently and to find new models of operating which have people and learning at the heart. A critical question for us is understanding the future sustainability of cities, such as Leeds, and considering the role of universities and colleges in enabling the sustainable growth of the city and its businesses by building the connections and resilience needed to bring not only economic prosperity, but social and environmental wellbeing.
The Government has put much store by city universities playing a critical part of local regeneration. We invite your perspective on this and how universities and colleges can do more as catalysts, enablers and drivers - bring intellectual, natural and human capital to the debate.
This session is intended to be an enlightened conversation between experts, inspiring a new dialogue between policy makers and practitioners as they explore the planning, consumption, social cohesion, quality of life and other challenges cities face and to begin to understand the role universities and colleges play in the long term success of cities.
To find more presentations and resources from this Conference, search for EAUCConf15.