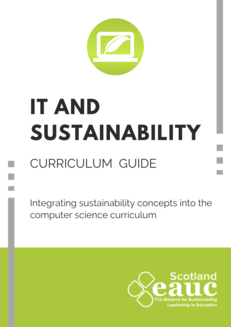 Embedding sustainability into the curriculum can be challenging, thus the aim of this resource is to help IT teaching professionals integrate sustainability concepts into the curriculum.
This guide is intended to be a first step to generating ideas of how sustainability relates to computer science, offering lecturers the opportunity to take ownership over other teaching topics and related sustainability concepts, connecting the dots between the wide range of ideas that relate computer science to pressing real-life issues.
We include examples of key concepts that integrate sustainability into computer science that can be used for teaching purposes and provide some suggestions as to how you might embed them into your courses.
The concepts and curriculum ideas in this guide are aligned with and support the aims of computer science degree programmes as determined by the QAA Subject Benchmark Statement for Computing.

We also have a companion curriculum guide for Economics and Sustainability.