Downloads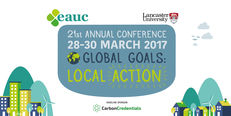 This workshop presentation is from the "Global Goals: Local Action" EAUC Annual Conference 2017, presented by Peter Rands, Director of Sustainability Development - Canterbury Christ Church University. Katy Boom - University of Worcester. Aurelien Decamps, Associate Professor - Kedge Business School and fell under the Learning and Skills stream. To find more presentations and resources from this Conference, search for EAUCConf17.
Learn about the range of methods to measure sustainability 'literacy' amongst our graduates and how best to embed such methods across the whole institution (not solely sustainability courses).
This session reviewed work that is underway globally to measure values, skills, attitudes and knowledge for sustainability. It explored how to generate questions to measure progress in these areas which you can take back and apply in your university.
One way of measuring sustainability literacy is through the international Sustainability Literacy Test (SuLiTest) which was demonstrated in the session.