Home
»
All Resources
» Measuring Sustainable Development Research in your Institution
Measuring Sustainable Development Research in your Institution
Tag: EAUCConf17
Downloads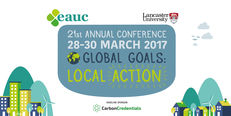 This workshop presentation is from the "Global Goals: Local Action" EAUC Annual Conference 2017, presented by Katy Boom, Director of Sustainability - University of Worcester and fell under the Work and Employability stream. To find more presentations and resources from this Conference, search for EAUCConf17.
International frameworks and the UK Research Councils highlight the need for Sustainable Development Research (SDR) to inform policy making, science and technology, yet indicators to measure this activity in HEIs are only slowly emerging.
The session shared Kingston University's first attempt to establish a practical methodology for an SDR indicator based on a highly replicable desk-based study. Visiting students from Worcester Polytechnic Institute have enhanced the methodology and contributed a global perspective which they also shared.