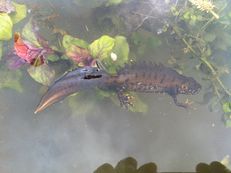 To meet the needs of an expanding leading university, the University of Cambridge has commenced the development of a site covering around 150 hectares in North West Cambridge. The site formerly comprised arable farmland and cattle and sheep grazed pasture, with hedgerows, a small stream and several drainage ditches. An Environmental Impact Assessment (EIA) of the project was undertaken during 2011/2012 and the scheme was granted outline planning consent in 2013. Through this consent, the University was granted permission to build a mixed-use scheme including 3000 homes, 2000 post-graduate bedspaces, 100,000sqm of research space, community facilities, with 50 hectares of land (a third of the development site) as open space and public realm.
Ecological surveys undertaken to inform the EIA identified the presence of several rare or protected species, which could be affected by the project, including great crested newts, toads, water voles, badgers, brown hares, bats, white-letter hairstreak and purple hairstreak butterflies and a nationally scarce species of lace hopper bug.
Phase1 of the development is currently underway with numerous measures to protect wildlife during site clearance and construction, including the installation of newt proof fencing to protect great crested newts and the closure of some small badger setts (both under licence to Natural England) as well as measures to protect ground nesting birds such as skylarks and little ringed plovers.
The development includes large areas of green space and will achieve a significant biodiversity gain by creating extensive new areas of woodland, orchards, species-rich meadow grassland, lakes with reedbeds, swales and hedgerows. The aim is to create a green infrastructure that will buffer and link small, fragmented habitat patches across the site and beyond.
In addition, nesting features for swifts, house sparrows and starlings have been incorporated into the design of a proportion of the new buildings on site, and a series of purpose built 'bat lofts' will be built into new buildings in strategic locations. There will also be bat boxes installed on retained trees, new wetland habitat designed specifically for water voles, kingfisher nest sites in the banks of the stream, artificial otter holts and a new badger sett, and a bespoke culvert with ledges under one of the access roads into the development, designed to provide access under the road for great crested newts.
For more information visit www.nwcambridge.co.uk.