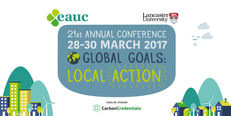 This workshop presentation is from the "Global Goals: Local Action" EAUC Annual Conference 2017, presented by Joe Bourne, Student Engagement Manager - Lancaster University Students' Union. Darren Axe, Environmental Projects Manager - Lancaster University Students' Union. Ian Sturzaker, Landscape Manager - Lancaster University and fell under the Planet - Resources stream. To find more presentations and resources from this Conference, search for EAUCConf17.
The learning environment plays a crucial role in education for sustainable development (ESD). This panel based discussion explored how Lancaster University has been investing in its outdoor and food growing spaces to diversify the way that academics from all faculties can embed sustainability within their curriculum at Lancaster.
This session focused on the long lasting impact that hands-on experiential learning can have on a student's behaviours for sustainability but also explored the wider, sometimes surprising, benefits from growing vegetables on campus and incorporating this into the curriculum.